Photography courtesy footage provided by the Mississippi State University Television Center.
STARKVILLE, Miss. – MSU's Center for Entrepreneurship and Outreach has hired Michael Lane to be Program Coordinator of the Idea Shop.
Having earned his mechanical engineering degree in December 2018, he will be responsible for MSU's new downtown makerspace and retail storefront.
"I grew up around tools and spent time working on construction sites with my dad," Lane said. "I realized how important it is for people who design to actually know how to build what they are designing. That's why I decided to get involved in the makerspace and give people the opportunities that I had growing up: to use tools, build what they want, and be a part of projects."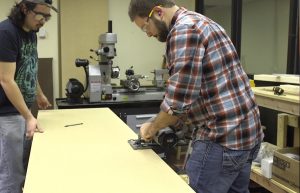 During his undergraduate career, Lane became a champion of the maker movement at MSU. He was a founding member of the Factory, a student organization launched in 2014, and he helped grow the organization to more than 200 active members. Lane traveled to over 10 universities and conferences around the country to benchmark MSU against other institutions and help inform the university's strategy to grow makers.
In 2016, Lane was selected to represent MSU by attending a kickoff meeting hosted by President Obama's Administration at the White House as part of the first National Week of Making. The national gathering brought together distinguished individuals who led efforts to inspire creative problem-solving and support opportunities for those from all backgrounds to tinker and make.
"Michael has built a remarkable reputation as a thought-leader in the maker movement across Mississippi and the country," said Eric Hill, director of the Center for Entrepreneurship and Outreach. "We are beyond fortunate to have him on the bulldog team and excited to have his help accelerating the growth of our resources for entrepreneurs downtown."
Launched in late 2018, the Idea Shop is located at 114 E. Main Street in Starkville and houses the Turner A. Wingo Maker Studio and the Retail Product Accelerator, which are operated by MSU's College of Business and School of Human Sciences. The facility will have a grand opening on March 7th, 2019 at 10a.m. and be open to the public Wednesday through Friday 1-9p.m. and 8a.m.-5p.m. on Saturday and Sunday.

For more on the MSU's Center for Entrepreneurship and Outreach, visit www.msuceo.com
MSU is Mississippi's leading university, available online at www.msstate.edu.