Story by: Tom Lammert, Lecturer at MSU Department of English
It's six o'clock in the morning and thousands of college students—their eyes shut, their hair tangled, their curtains closed to mute the sun's glare—slap their nightstands. Any one of these failed attempts to silence an iPhone's alarm might end with a spilled glass of water, a lamp tipped on its side, a book swept off the table and onto the carpet. The searches for snooze buttons devolve into tantrums where clenched fists thrash whatever or whomever is within striking distance until the students realize that last night they left their phone on the kitchen counter or on the tiled ledge above the bathroom sink or on the coffee table where a laptop now displays a screen asking, "Are you still watching 'Stranger Things'?"
The students sit up, stretch while wincing like newborn puppies. Awakening hurts. But alarms must be silenced so the students force themselves from bed and tip-toe out of bedrooms across veritable minefields littered with sleeping cats, mounds of laundry, backpacks that leaked pens and notebooks, bowls in which spoons are submerged beneath tepid cereal milk.
When one of the students finally stumbles into his bathroom where his iPhone shrieks, he jabs his thumb at the phone's screen, silencing the alarm. Class begins at eight and his walk to campus through the Cotton District takes twenty minutes, thirty if it's humid and he slows his pace to stymie his sweat. There's no time to fall back into bed so he slumbers to the kitchen, grinds then brews coffee. His neighbor's dog hasn't started its incessant barking and outside his kitchen window, the street lies abandoned. The empty morning amplifies each coffee drip. His Mr. Coffee beeps so he removes the carafe, tips a stream of coffee into a mug that has the phrases "Too Much Monday. Not Enough Coffee" scrawled in golden cursive across white ceramic.
Nose buried beneath the mug's brim. Steam rising like mist over a lake at dawn. He feels alone in the world and the coffee's warmth allows him to forgive himself for having set an early alarm.
As the CEO of a mobile coffee shop — jitterbean's coffee — Madison Grant, a junior at Mississippi State University, knows how a cup of coffee can improve any situation; it can even transform the aftermath of being jerked awake by an alarm into a blissful experience. But Madison didn't always know the soothing effects coffee can bestow on those who drink it. She recalls how as a teenager she would occasionally venture into a Starbucks for a Frappuccino, but she didn't develop her appreciation for coffee without "a ton of creamer" until she attended Coastal Alabama Community College. While earning her AA, she would walk from campus to Refuge Coffee, where she spent most of her free time working on her business statistics assignments or chatting with the baristas. But the assortment of light and bold roasts didn't endear her to Refuge Coffee. She credits the environment—which she describes as the prototypical "calm, coffee shop atmosphere" —and the shop's employees for turning her into a regular customer. "The atmosphere made me love coffee," Madison says, "but it got to be about more than the drink. It was about the people." Overtime Madison's appreciation for fresh-brewed coffee transformed into a love for a barista's ability to brew a perfect cup, one "just sweet enough" to be "absolutely perfect."
Whereas it's obvious Madison enjoyed her time spent at Refuge Coffee, her experiences there didn't immediately spawn the idea of starting a coffee shop on wheels. It wasn't until after she had transferred to State that she considered starting a mobile coffee shop. As a transfer student, Madison sought to involve herself. She joined eClub, a student organization that works alongside the E-Center to encourage entrepreneurship, and it was during an eClub meeting that the students were tasked with proposing a concept for a business. Madison recalls having to drive over forty-five minutes to find coffee that was better than anything in her hometown of Alberta, AL. These experiences of having had to travel for good coffee prompted her to propose to the eClub the idea for a company that would bring quality coffee to her and other caffeine junkies.
Over the course of the following weeks, Madison and other eClub members refined her concept. She entertained the thought of starting the business—she's always been business-minded and when she was in high school she dreamt of becoming a CEO—but it was Brandon Johns, the CFO of jitterbean's, who walked into the E-Center and set up a meeting to pitch Madison's idea of a mobile coffee shop. Madison admits that when Brandon told her about how he had signed up to pitch her idea that she "had no idea what he was talking about" because she had "never heard of the VentureCatalyst Program." With only a few days to prepare for the Peer Review Entrepreneurship Panel (PREP), Brandon assured Madison that he would attend the meeting with her. Unfortunately, "he had to pick up a friend from the airport right when the pitch was ending." Madison was left to present the business concept without Brandon.
Prior to pitching to PREP, Madison realized that other companies—titans like Starbucks and holes-in-the-walls like Starkville's Strange Brew— were already pouring no-frills coffee, but one aspect that Madison hoped would distinguish jitterbean's was the environment in which patrons would get a caffeine fix. Madison knew jitterbean's wouldn't ape the environments of brick-and-mortar coffee shops like Starbucks or Dunkin' Donuts or Einstein's or any number of chic-yet-rustic local coffee shops where mustachioed hipsters sip gluten-free, soymilk lattes while playing chess and grooving to an endless Dave Matthews playlist, where the baristas charge $9 for a cappuccino because they've etched into the foam a silhouette of a leaf or a heart.
Madison just wanted jitterbean's to deliver simple, wholesome coffee to its customers.
Pitching jitterbean's as a roaming coffee service was enough to attain funding from the E-Center's PREP board. Unfortunately, mobility wasn't enough to earn Madison and her team full funding from the next review panel, the Entrepreneurship Center Advisory Board (ECAB). She admits that prior to her first ECAB presentation she had felt ill-prepared and unsure about the company's viability; she says she couldn't stop asking herself, "Is this something [I shouldn't] continue with?" Despite her doubts, Madison, "nervous as all get out," pitched. She's convinced that during this presentation she "served [the board] coffee that probably was not very good," but it wasn't Madison's anxiety or the coffee that prevented ECAB from awarding jitterbean's maximum funding. Dr. Charles Freeman, a member of the ECAB board and an Assistant Professor of Apparel, Textiles and Merchandising (and a big coffee fan), approached Madison after the presentation. Madison says Dr. Freeman told her that he liked the prospect of a mobile coffee shop, but he felt "the business model [was] way off." He suggested that the company try roasting its own beans to cut costs. Wanting to earn full funding from ECAB, Madison implemented Dr. Freeman's advice into jitterbean's' business model.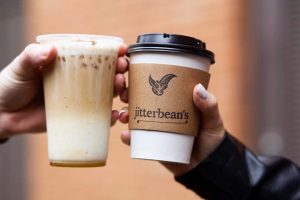 Madison wasn't going to squander a second opportunity to pitch her business to ECAB, so she and the jitterbean's team started roasting their beans. When they began the process, the team ignored industry conventions. Sure, Madison and her crew started by purchasing raw beans from a wholesaler (not uncommon), but when the beans arrived the team didn't even own a roaster. Although bean roasters won't empty most bank accounts—low-end, non-commercial models are available for less than $50—jitterbean's was in its embryonic stage, and Madison didn't want to blow through the company's PREP and ECAB funds.
The team gathered at Madison's house. The quality of this first roast, born from the atypical process of whisking shriveled, unroasted beans in a 15-inch cast-iron skillet heated by a grill, still surprises Madison: "They were actually really good!" Madison and her team continued to roast beans, all the while learning to produce roast varieties ranging from blonde to French.
A few weeks after the initial ECAB presentation, Madison met with the ECAB board and told the members about her company's goal to demystify the brewing process: Madison brought the beans she and her team had roasted and, using a high-end siphon, made coffee. Impressed with Madison's revised business plan and the improved product, ECAB fully funded jitterbean's.
Madison continues to roast beans for jitterbean's, and she's upgraded from a cast-iron skillet heated by a grill to a conventional bean roaster. She finds that roasting beans saves the business money, and controlling the coffee brewing process from start to finish provides the company with an additional means of luring coffee lovers from their favorite baristas; modern consumers are acutely aware of what they put into their bodies, so why not make the transparent brewing process an integral component of the jitterbean's brand?
When jitterbean's deploys its mobile shop, Madison plans to illustrate the entire brewing process—from roasting green, bitter, shriveled beans to the moment when customers wrap their fingers around a cup of steaming brew. "It would be really cool to use the grill just so people could see what we're doing," says Madison. "It's a lot more visual than the roaster where [the beans] are closed up and you can't see what's going on." She also touts the potential for the smell of roasting coffee beans to attract customers: "The cool thing about roasting coffee beans is that it has a different aroma than brewing coffee beans. It's a lot stronger and smells real earthy and natural […] People will be able to see it and smell it. It really appeals to all the senses. Then they can go see it brewed and it looks completely different and smells completely different—but it's the same thing."
Residents of Starkville will be the first to try a cup from jitterbean's, but Madison wants to expand her business' reach to other southeastern college towns. Just as Refuge Coffee serves "slow coffee" in a comfortable atmosphere, jitterbean's aspires to serve "slow coffee" in an atmosphere most Southerners find comfortable: tailgates outside of football stadiums. "Whenever people go to a game, they can expect to get a jitterbean's cup of coffee."
While she plots an SEC takeover, the other entrepreneurs in the E-Center inspire Madison. She says, "Everyone in [the E-Center] has that dreamer mindset—that itch to just do something, to be successful."
It's obvious that other student entrepreneurs impress and motivate Madison, but her peers would be wise to experience a moment of solace with a mug of jitterbean's coffee—especially on mornings when the alarm clock sounded too early.
Learn more about jitterbean's coffee on their website at https://www.jitterbeanscoffee.com.